Art Gallery
Artists interpret Sudden Oak Death
Susan Frankel, Pacific Southwest Research Station & Janice Alexander, University of California Cooperative Extension
Trees are powerful symbols of growth and longevity so sudden oak death, caused by the exotic pathogen, Phytophthora ramorum, has evoked strong emotional reactions in the wake of destroyed tanoaks (Notholithocarpus densiflorus) and coast live oaks (Quercus agrifolia).  The unusual tree mortality drew significant media attention, with images of hillsides littered with dead trees near residences caused by a â??mysteriousâ? new tree killer. People that viewed the tree disease first-hand and others that only read or heard about it, reacted with fear, loss, anger and shock at the destruction of nature.  The tree mortality has inspired musicians, photographers, painters and writers to create; sudden oak death has appeared on CD covers, in adult fiction, childrenâ??s literature, and performance pieces.  In these works, besides despair, the poignant response to the threatened and actual loss of trees has often prompted people to affirm their attachment to, and affection for, trees.
In 7000 Marks, Sara Black, Art Institute of Chicago, and Amber Ginsburg, University of Chicago, transformed a Sudden Oak Death-infected tanoak tree into 7,000 pencils. The dying tree was harvested from Landels-Hill Big Creek Reserve in Big Sur, as part of the artistsâ?? vision to explore global industrial trade, quarantines and boundaries. The artists ponder the tightening of boundaries, since quarantines, while an act of conservation, echo a rising tide of nationalism, xenophobia, and boundary reinforcement on a global scale.
The Pink Tree by Henry Brudenell-Bruce, at Delamore Estate in Cornwood, Devon, UK. 2012. Photo:Â  The Herald, Western Morning News.
The Sudden Oak Death piano by Benjamin Christopher Martins, part of â??Sing for Hopeâ? placed at Park Avenue at Washington Avenue, Brooklyn, USA, 2011. Photo from pianos.singforhope.org.
Sudden oak death, the band.  Davis, CA.  A band that combines country western, punk and other musical styles.
O Oaks OH. Performance Art.  Montalvo Arts Center, August 13, 2009, Saratoga, CA. Created by Mierle Laderman Ukeles,  â??O Oaks OHâ? is a response to the health of Montalvoâ??s land and focuses on the sudden death of some of its ancient oak trees.  A public Day of Gathering/Learn-In in Montalvoâ??s Historic Villa brought together scholars, spiritual leaders, experts and leaders to share their learning on both the perils of Sudden Oak Death and the ancient spiritual majesty of the oak.   The work was commissioned by the Montalvo Arts Center, http://montalvoarts.org/.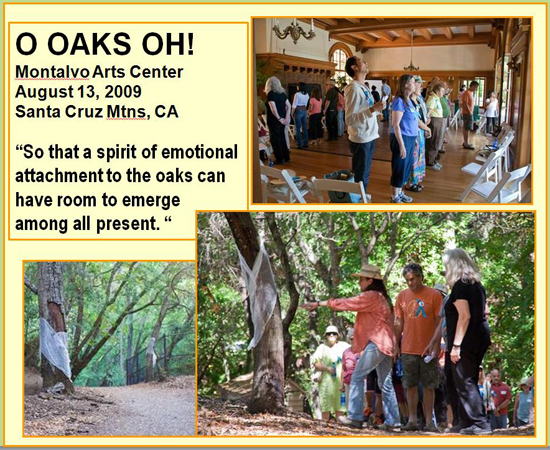 â??Sudden Oak Deathâ? from the album Moon Colony Bloodbath by John Darnielle and John Vanderslice. 2011.
Sudden Oak Death: 'Bastogne' and 'The Breaking Point'. 2010. â??asemicâ? PicSpam refers to a fan's posting of screen captures from recently-aired television episodes. At the website Picspammy.com, the challenge was to use those images to illustrate a song. In this case, user "asemic" chose the song "Sudden Oak Death" and illustrated it with images from the show "Band of Brothers."
â??Standing Groundâ? by Kelly Starr. 2008. Book of photographs.  Marin County, CA, USA. Bay Area photographer, Kelly Starr published a book of oak landscapes to capture the beauty at risk from sudden oak death. The bookâ??s foreword is written by Matteo Garbelotto, sudden oak death researcher at UC Berkeley.
â??â??Worldâ??s largest picnic tableâ?by J. Gathorne-Hardy, Suffolk, UK, May 2012. J. Gathorne-Hardy, Suffolk, England set out to build the worldâ??s largest picnic table out of wood from dead oaks on his property. He then invited the community to join him for a picnic. The table was built as a response to â??sudden oak deathâ? but the actual cause of death of the oak trees was not actually Phytophthora ramorum. The table, although quite long, did not turn out to be the largest ever built.
Sudden oak death described in a short story by Alex Branson, published in 2012 by Housefire books.
"Tracks of an Oak Killer" by Jillian Walters. 2012. Illustration of bleeding oak accompanying an article in Science Notes from UC Santa Cruz.
"Phytophthora & the Others" Song by The Wonderer 09, Denmark

"Sudden Oak Death" Song by Folivore. Santa Cruz, CA.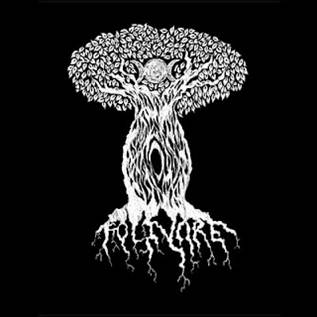 "Sudden Oak Death" EP by Transport, 2006. Modesto, CA.
"Sudden Oak" CD covers. San Francisco-based band consisting of John Ward on lap steel guitar and Matt Erickson on amplified tenor sax.
Wooden bowls turned from Phytophthora ramorum host trees. From left to right: California bay laurel (Umbellularia californica), madrone (Arbutus menziesii), and big leaf maple (Acer macrophyullum). Mark Stanley, 2013, Camino, CA.
"Sudden Oak Death Syndrome", by Ruth Thompson, 2015

The "Art of Saving Oaks" was an online invitational art show that took place February 2014 – February 2015. The exhibit used pieces by nine artists to capture the beauty of the oak landscape and educate and inspire people about Sudden Oak Death. Artists included Stephen Joseph (photography), Anna Dal Pino (oil painting), Kelly Taylor Starr(photography), Jeanne Lotta-Sellars (watercolor), Kathy Kleinsteiber (watercolor and acrylic), Lillian Murphy (watercolor), Bonnie Bonner (watercolor), Katie Bertsche (ink illustration), and Eliza K. Jewett (watercolor and digital).
The first â??Art of Saving Oaksâ? was held in Sausalito, California (2002) with additional shows at Filoli Gardens in Woodside (2003) and at the UC Santa Cruz Arboretum (2004). This was the fourth presentation of The Art of Saving Oaks, exclusively online at www.suddenoakdeath.org, as part of the Visualizing Sudden Oak Death online conference, February 10 â?? 21, 2014.